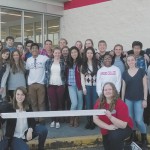 The City of Oak Ridge Youth Advisory Board members recently voted to spend time and money Christmas shopping at Kmart for area children through Mission of Hope. The board raises funds at various events throughout the year to make this possible.  In total the board spent $1664.73 on gifts.  The City YAB would like to encourage other student groups and families to consider holiday projects that help those in need, while also reminding everyone to shop in Oak Ridge this holiday season!
Pictured above L to R: (front) Marie Denorme and Hannah Oran, (second) Camille Martinez, Claire DiFazio, Ovi Kabir, Caroline Bradshaw, Elizabeth Bradshaw, Shichen Zhang, Lauren Collier, Riley Mosby, Catherine Humphries, and Candace Pang. (back) Julie Heten, Kolton Reedy, Peter Magill, Kevin Reedy, Curtis Rookard, Tyler Boullie, Wesley Robinson, Stella Powell, Mandy Pitz, Brent Robinson, Brandon Stanley, Lewis Wang, and Masa Kato.
For more information about the City Youth Advisory Board visit www.orrecparks.com or contact Matt Reedy at 425-3442.