ORCA (Oak Ridge City Aquatics) swim team is an aquatic recreational workout for children ages 5-18. The program promotes fitness, team work, good sportsmanship, and proficiency in the four competitive strokes.  The group does not compete in swim meets throughout the fall/winter months.  It is a good stepping stone between basic swimming lessons and competitive swimming.   Swimmers must be able to swim 50 yards unassisted to participate. A swim test will be given the first day. Swimmers who do not meet the swim test will be encouraged to take further lessons and their fee will be refunded. For further information call the Recreation and Parks Department at 425-3450.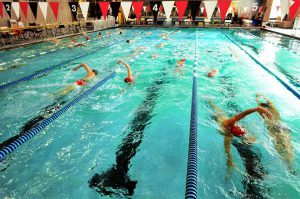 Instructors
Our instructors are all lifeguard certified.
Pricing
$90.00  per swimmer for 6 week sessions
Registration is NOW OPEN!!  (see link below to redirect you to registration)
Session Dates:
Fall Session 1 :     Aug. 18-Sept. 24 
Fall Session 2:     Oct. 13-Nov. 19  (Registration Opens Sept. 14)
ORCA practices are held on Tuesdays and Thursdays at the Civic Center, from 4PM until 5PM.  Please take note of COVID19 changes for the Recreation Center and Swimming Pool.
ORCA follows City of Oak Ridge school's snow schedule, if school is cancelled, ORCA is cancelled.
Please note that you may sign-up at any time during a session, however you are not pro-rated missed days.
*Summer ORCA is on a different practice schedule and fee plan.
Registration is only available Online.  You will be redirected to another page for registration and payment.
For Registration and more information go to our ORCA team website click here !