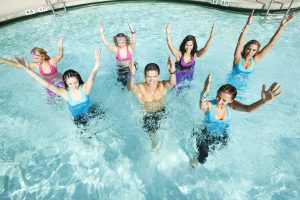 We are working on revamping our water exercise program and adding new classes.
Currently Offered
Paddle Board Yogafit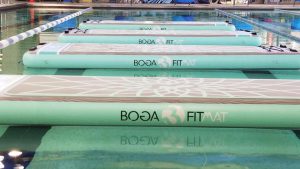 This unique class is a combination of Yoga, cardio, and crossfit.  Great for strengthening the core.  Boards are provided by the instructor.  All skill levels welcome!!  No Yoga experience necessary.  Basic swimming skills are needed.
Tuesdays     6:00pm-7:00pm
Thursdays   6:00pm-7:00pm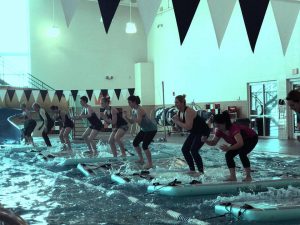 Fee:              $15.00 per class (cards, cash accepted by instructor)
Instructor: Brian Howell, certified Yoga instructor and CPR
What to wear?   Swim suit with shorts over top, compression shorts or pants and shirt, shorts and t-shirt.  You will get wet and will be bending and moving into various positions.

We are excited to announce Aqua Zumba is here!!
If you enjoy water, music, dancing and just plain FUN!?  Aqua Zumba is for you !!  We hope to see you with us on Thursdays @ 7pm!!  Class is held in the shallow end of the pool.  No swimming experience necessary.
Every Thursday 7:00pm-8:00pm
Instructor: Ginny Velazquez, certified Zumba instructor and CPR
Adult – $4.25 per class
Senior 65 – $2.25 per class
What to wear?  Swim suits, rash guards,  shorts and t-shirts over suits are welcomed.  Water shoes are recommended for traction and sensitive feet, but not necessary.

Downloadable Forms