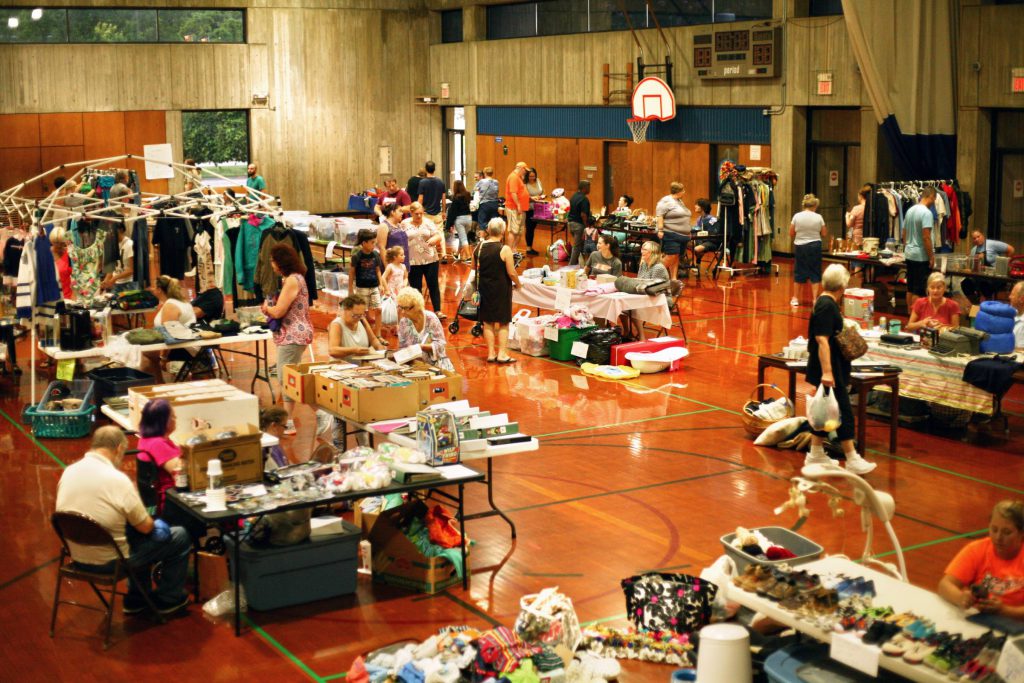 For one day only, Saturday, July 17th, the department hosted an indoor yard sale in the Oak Ridge Civic Center gym from 8 am until 2 pm. Anyone can sign up to sell. Space is only $15 and you can get up to two spots while space is available.
Applications, vendor rules/regulations, and other info are available on the Recreation and Parks website (http://orrecparks.oakridgetn.gov/). You can also stop by the Civic Center front desk or call (865) 425-3450 with questions.
VENDOR RULES
Flea Market is from 8 am till 2 pm, Saturday, July 17th, 2021.
No resellers, retailers, antiques, crafters, new items, or items created specifically for sale allowed. This sale is for the general public who do not do business selling items, either online or in person, who is not engaged in business, who do not fit the definition of requiring a business license.
Limit of 2 spaces per immediate family/individual. No space location requests.
An 8'x 8' space rental, costs $15.00. This will include the use of one 8-foot rectangular table and two chairs, for no additional charge. Maximum of 2 spaces per vendor (immediate family/individual). No sharing spaces. The vendor is responsible for providing a table cover, as the vendor will be charged for any damage to tables, chairs, and/or floors.
You may bring your own tables and chairs but they must fit in your allotted space and they must have protected coverings on the legs, so as not to damage the gym floor. Additionally, vendors must provide a protective floor covering for any items placed on the gym floor, as charges will be assessed to the vendor for any damages. Large and/or heavy items, such as tillers, will not be allowed in the gym. We have secured limited, outdoor, uncovered storage space if needed. You may take a photo of your item and post at your table if you like. Large items must be listed on your application and must be approved by Civic Center staff due to limited space availability. You also have the option to leave your pictured large items in your vehicle or at your home for sale at a later time.
There are some specific unacceptable items that cannot be sold at this market: Pornographic Material b. Drug Paraphernalia c. Fireworks d. Animals, Tasers, f. Firearms, g. Food, and/or Drink,  h. Dirty items,  i. Anything else deemed inappropriate by Staff
Vendors should not use amplifiers to sell their wares.
There will be a table available, for vendors to share, which has electric outlets available, to check items to see if they work.
No boxes, goods or trash should be left behind when you leave. Please clean your area and put trash in the blue dumpster behind the Civic Center. Please Do Not put trash in the recycling containers.
The City of Oak Ridge is not responsible for lost/stolen/damaged items or injuries. Do not leave your space/items unattended.
Unloading ( for set up and for customers) Do not leave your vehicle unattended while loading/unloading. In an emergency, you will need to be able to move your vehicle immediately. You may park next to the sidewalk, while loading/unloading your vehicle only but must move it into the parking lot immediately upon completion.
Parking on the grass, sidewalks, or in the turn-around by the flag pole is prohibited; cars will be ticketed and towed at the owner's expense. Parking at the far end of either the East or West lots will leave closer parking for and encourage more customers to attend the event.
Sale hours are 8 am—2 pm. You may move your items into the gym at 7:30 am. All unloading must be complete by 8 am. If you know your table number, there is no need to check-in. If you do not know your table number, stop by the Civic Center desk to find out before unloading.
Restrooms are located in the gym, ladies upstairs/men downstairs, with additional and accessible restrooms down the hall. Keep them clean and use the trash containers provided.
The City of Oak Ridge Recreation and Parks Department oversees the Yard Sale and has the authority to cancel a sale or ask a vendor to leave for any reason and without refund.
Facility users renting space in the Gym are responsible for: a) Their own setup and takedown. b) Chairs and tables must be Clean of all food and beverage spills and returned to the storage closets. c) Floor must be Cleaned to Pre-event Condition. Food and beverage spills must be damp mopped.
Bring lots of small bills and change for your customers, as the civic center will not be able to provide these for you. Additionally, there is no ATM in the building.
After the event, all items must be removed from the building and vehicles moved away from the sidewalk by 3 pm.
Cash or check payments only. Payment must be made at the time of application. Refunds will only be made if cancellation is made by, no later than, Wednesday, July 14th.
Masks are strongly recommended throughout the event.