The Oak Ridge Pickleball program continues to grow and reach new players as the sport gains momentum nationally.  All over the country, new courts are popping up and major retailers are carrying Pickleball paddles and balls on their shelves.  Here in Oak Ridge, over 170 players have participated in the program, sponsored by the Oak Ridge Senior Center.  With new court additions, that number is expected to increase again.  In June 2017, the Oak Ridge Recreation and Parks Department added four outdoor courts for Pickleball on courts 11-14 at Oak Ridge High School.  Back in August 2016, the department added six indoor courts inside the Civic Center to accommodate a robust group of players that were having to tape lines down every week for the activity.
Oak Ridge Pickleball is headed up by several community volunteers who have raised money for court improvements and they continue to manage virtually all facets of the program.  Currently, the Senior Center sponsored program welcomes players age 50 and over on Tuesday and Thursday mornings at the Oak Ridge High School Tennis Courts from 9am-Noon when weather permits play.
A new Pickleball opportunity starts on Friday night, June 23rd at the Oak Ridge Civic Center for everyone ages 18 and up.  This indoor program is expected to run year-round on Friday nights from 6pm-9:30pm except when special events are taking place.  A limited number of loaner paddles are available to new players who wish to try the activity.  All players must sign a waiver before participating.  Tennis shoes, a water bottle with a lid, and a willingness to try something new are highly recommended.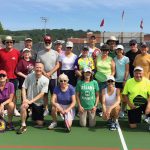 Oak Ridge Pickleball Facebook Page