About the Facility
The year-round indoor pool facility is located in the Oak Ridge Civic Center Recreation Building at 1403 Oak Ridge Turnpike. This pool is a seven-lane, 75'x48', with depths ranging from 3'6″ to 10'6″ and holds 183,600 gallons.  The water temperature is normally 83 degrees. The pool is open six days a week throughout the year. The pool schedule varies depending on the season. All the swim teams in the City use this facility.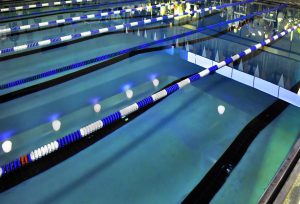 Indoor Pool Schedule
Click here to view:   Summer Schedule 2017
Indoor Pool Closing Days
Closing Times
May 29 (Memorial Day)
All Day
June 9th and 10th (Secret City Festival)
All Day
June 13th
4:30 p.m.
June 22nd
4:30 p.m.
July 4 (Independence Day)
All Day
 July 29-August 2 (annual Center maintenance)
 All Day
Indoor Pool is closed on all Sundays. For further information, please call the Recreation and Parks Department at (865) 425-3450.
Click here for the outdoor pool facilities and hours page.