About the Facility
The year-round indoor pool facility is located in the Oak Ridge Civic Center Recreation Building at 1403 Oak Ridge Turnpike. This pool is a seven-lane, 75'x48', with depths ranging from 3'6″ to 10'6″ and holds 183,600 gallons.  The water temperature is normally 83 degrees. The pool is open six days a week throughout the year. The pool schedule varies depending on the season.
The Indoor Pool is Home to three Swim Teams!
  Oak Ridge City Aquatics (ORCA)
  Oak Ridge High School Wildcats (ORHS)
  Atomic City Aquatic Club (ACAC)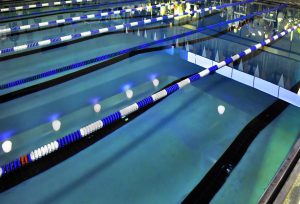 Indoor Pool Schedule
Click here to view:   August – December Indoor Pool Schedule 2017DeDddD2s
Indoor Pool Closing Days
Closing Times
November 16 (HS Swim Meet)
2:00pm-closing
 November 23rd and 24th (Thanksgiving)
 All Day
December 7 (HS Swim Meet)
 2:00pm-closing
 December 25 & 26 (Christmas)
  All Day
 January 9 (HS Swim Meet)
 2:00pm-closing
Indoor Pool is closed on all Sundays. For further information, please call the Recreation and Parks Department at (865) 425-3450.
Click here for the outdoor pool facilities and hours page.