Information
Shop and crop at the annual Memory Magic Scrapbook Event. The 2016 event will be held on Friday and Saturday, September 30th & October 1st. Crop hours will be on Friday and Saturday from 8am until 11pm.  Vendors will be open to the public from 9am to 6pm; shopping after 6pm is reserved for paid participants only.  Individuals do not have to attend the crops in order to shop during the day; everyone is welcome.  Online registration will begin in late August.  For more information about the event email Amanda Pope at apope@oakridgetn.gov.
Check out our 2016 T-Shirt Design!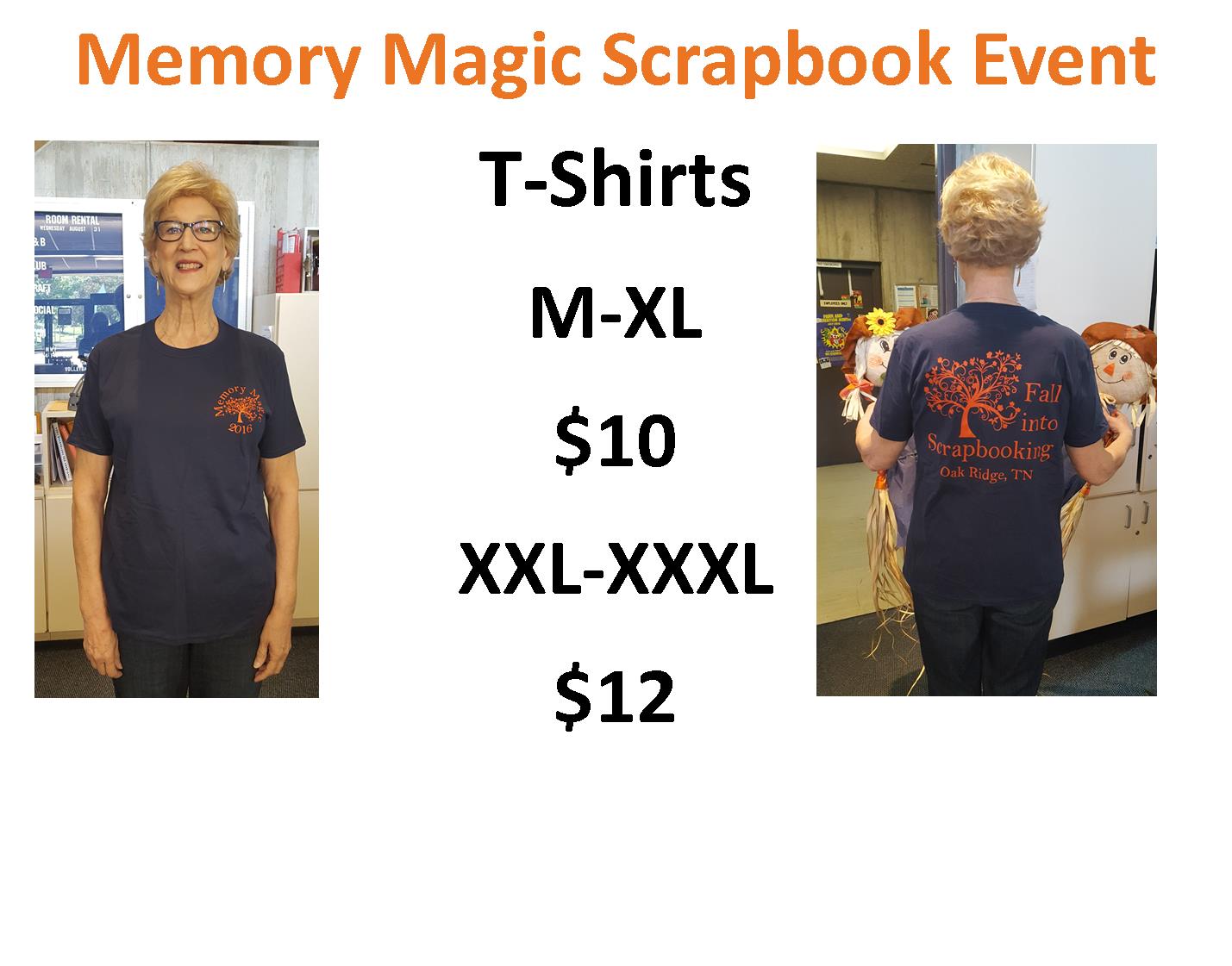 Registration
Online registration for the 2016 Event will be available beginning August 22nd. Walk-ins will be taken on the morning of the event as long as space is available.
EACH PARTICIPANT MUST REGISTER INDIVIDUALLY FOR CORRECT DISCOUNTS TO APPLY!
Create an Account and Register
 Classes
For information about available classes please click on the flyers below. All class registration will be handled by individual instructors.
Seating Reservations
All crop reservations MUST be paid for through the online system PRIOR to making any seating reservations. See links below for further details.
Seating Reservation Map (As of 9-14-16)
Seating Reservation Information Sheet
Lunch & Dinners
Untamed Kitchen food truck will be onsite during the event at an additional cost. More information to be provided later.
Vendor Information
For information about participating in the 2016 Memory Magic Event as an instructor or a vendor please contact Amanda Pope by email at apope@oakridgetn.gov or by phone at (865)425-3450.
Event Vendors 2016