The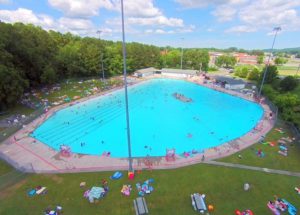 Oak Ridge Outdoor Swimming Pool is located at 172 Providence Road. Originally constructed in 1944 by the Corps of Engineers, the pool underwent major renovation in 1992-1993 and reopened for the 1994 summer season. The pool is spring water fed and considered one of the largest in the nation. Depths range from zero to 13-1/2 feet. It opens each summer during the first part of June and closes in August. There are 25- and 100-meter courses, an offshore island, and a large grassed beach area. Food and float rental concessions are also available.
We are Closed for the season.  See you Summer 2018!!
* Areas of pool closed depending on activities, crowds, and staffing. For further information, please call the Recreation and Parks Department at 425-3450.
Click here for the indoor pool facilities and hours page.